Ravel Pavane, Fauré Requiem & Rutter Magnificat
Assembly Hall – 13th April 2003
Review not available – click on image to view programme
Vaughan Williams A Sea Symphony & In Windsor Forest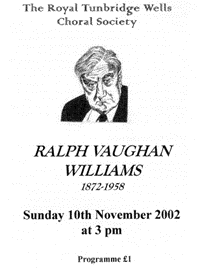 11th November 2002
Devoting a whole programme to a single composer, in this case Ralph Vaughan Williams, is not something that usually goes down well at the box office and to choose one of his most demanding works the Sea Symphony, as the main attraction, suggests a degre of audience loyalty to which most performing societies can only aspire.
But on the whole the Choral Society's courage paid rich dividends. The opening work was the increasingly popular romance The Lark Ascending. More robust fare followed with the cantata In Windsor Forest, consisting of five songs chosen by Vaughan Williams from his opera To John in Love. The various sections of the choir were heard to good advantage against the fairly lightly-scored orchestral settings used by Vaughan Williams for these very characteristic pieces.
The main work of the afternoon was the Sea Symphony, a huge floundering piece, halfway between a symphony and a cantata, based on a poem by Walt Whitman. Here the orchestra really came into their own: the opening fanfare, and the great shout from the chorus Behold, the Sea, were electrifying in their effect.
Of the contrasting more reflective passages, perhaps the most magical was On The Beach At Night Alone, beautifully sung by the baritone Johnathan Gunthorpe, with great feeling for infinite space and time. His fellow soloist, soprano Yvette Bonner, sang with clarity and purity of tone but she could not always be heard above the tempestuous orchestra.
To be fair, the same has to be said about the chorus as a whole, but for this state of affairs Vaughan Williams himself is largely responsible.
The Royal Tunbridge Wells Choral Society served Vaughan Williams well, perhaps even better than the great man deserved.
© Robert Hardcastle