Programmes  & Reviews for 111th Season (2014-15)
JS Bach – St Matthew Passion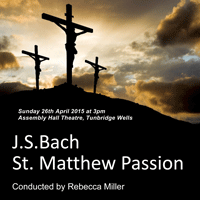 Assembly Hall – 26th April 2015
Dedicated to the memory of Sir Derek Day
London Handel Orchestra – leader Adrian Butterfield
Gwilym Bowen (tenor) as the Evangelist
Robert Rice (baritone) as Jesus
Ruth Holton (soprano), Clare McCaldin (mezzo – soprano)
Greg Tassell (tenor), James Birchall (bass-baritone)
RTWCS choir – Conducted by Rebecca Miller
Click on image to view programme
How fortunate we are to have so many townsfolk willing to share their musical talents and enthusiasm with us! The Royal Tunbridge Wells Choral society, under their conductor Rebecca Miller continued hitting  the heights with their performance of Bach's St Matthew passion on Sunday. The reputation of Rebecca Miller in wider musical circles continues to grow and the society is able to secure the services of some very able up and coming young soloists. Gwilym Bowen, Robert Rice, Greg Tassell and James Birchall hit their stride from the off and once Ruth Holton and Clare McCaldin had adjusted to the demands of the hall we were set for an exciting performance.
The choir, supplemented by friends from The Royal Holloway Choir and the Mayfield Festival Choir, numbered over 100 and they had been arranged on the floor of the hall in a "V" shape around the London Handel Orchestra. Designed to aid the contrapuntal style of some choruses this bold venture worked on every level. Rather than being isolated on the stage the performers were very much in the auditorium and the audience were much more involved in the varying moods and passion of the piece, which was also transmitted by Rebecca Miller's very energetic conducting style. Just watching her hands conveyed a great deal about both the music and the libretto. The period orchestra were superb and contributed greatly to the sense of a performance which might have graced an eighteenth century stage.
It would perhaps be invidious to single out one of the soloists but Gwilym Bowen, looking every inch a copy of Sir Simon Rattle, sang the role of the evangelist with clarity, excellent tone and great sensitivity.  All in all this was a first class afternoon and one can only wonder why there were a few seats left unsold.
David Trainor
Performances by the Royal Tunbridge Wells Choral Society are always of the highest order, but the rendering of Bach's St Matthew Passion in the Assembly Hall a week ago last Sunday exceeded all expectation. The choir, soloists and the orchestra, under the baton of Rebecca Miller, all combined to produce an event of great feeling and poignancy .
The innovative presentation, placing the whole ensemble on the floor of the hall in front of the stage, was an inspired move, allowing the delighted audience to become more involved in the drama of the passion. Bach would have been thrilled if he could have been there. It's wonderful to see that professional standard choral works are alive and well in Tunbridge Wells. We look forward to the Mozart Requiem in the autumn.
letter to the Courier from Brenda Chew
Have Yourself a Merry Little Christmas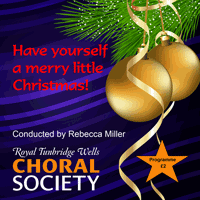 Christmas concert at Goudhurst – 14th December 2014
Royal Tunbridge Wells Choral Society
Mayfield Band – directed by Doug Blackford.
Emily Steventon soprano
Michael White baritone
Jeffrey Gray organ and piano
Conducted by Rebecca Miller
No review available – Click on image to view programme