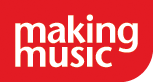 RTWCS is affiliated to the National Federation of Music Societies ("Making Music"), and choir's constitution provides for a "Making Music" representative on the committee.
The National Federation of Music Societies was founded in 1935 at the instigation of Sir George Dyson (1883-1964) who was their first Chairman and President. George Dyson was also for a time the president of RTWCS and once conducted the choir. Now renamed "Making Music", the organisation represents and supports over 2,900 voluntary and amateur music groups throughout the UK, and provides a number of useful services and advice.
Local links
In 2007 we combined forces with the East Grinstead Choral Society (EGCS) conducted by Richard Jenkinson.
In 2012 we linked up with the Mayfield Festival Choir to sing Verdi's famous Requiem under Graham Caldbeck.
Amongst the schools we have linked up with for various recent concerts include the Tunbridge Wells Girls' Grammar School (TWGGS) and Tonbridge Grammar School (TGS)
For links to the websites of other Choirs, Music Societies & Clubs in the locality of Tunbridge Wells, please see our Other Events page.