Our Next Concert
113th Season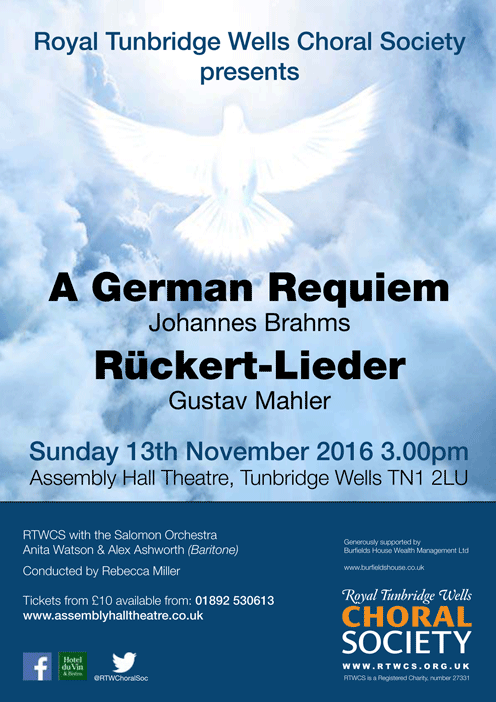 posters/Brahms_2016 flyer-revised.pdf
Remembrance Day Concert
Sunday 13th November 2016
Johannes Brahms –
German Requiem
Gustav Mahler –
Rückert-Lieder
RTWCS Chorus and the
Salomon Orchestra
with soloists Anita Watson and Alex Ashworth.
(Note Anita Watson is to replace the originally advertised Natalie Montakhab; click on poster image to download revised flyer)
Conducted by Rebecca Miller
Ticket prices at £10, £18 and £22 available from RTWCS members,by phone on 07506 577142 (cash and cheques only before Saturday 5th November please) or from the Assembly Hall theatre box office on: 01892 530613
---
Looking Ahead
Sunday 11th December 2016 at 6 pm
Christmas Music at St Mary's Parish Church, Goudhurst
---
Spring Concert
Sunday 7th May 2017 in the Assembly Hall
JS Bach - Mass in B Minor
With the Southbank Sinfonia
---
Sunday 2nd July 2017
Informal Summer - details to be announced
---
Remembrance Sunday Concert
12th November 2017 in the Assembly Hall
Antonín Dvořák - Mass in D Minor (to be confirmed)
Note future events and venues are subject to change - please refresh page to check for updates.
Past performances
You can view programmes and reviews of past concerts on our Reviews page.
---